The hottest destination of Summer 2020 wasn't St. Tropez. It wasn't Ibiza. And no, it wasn't Mykonos. It may have just been Maine, and the inside track is — it's just as good in early fall. This is your guide to Maine and Portland, one of their best cities.
Suggested Stay:  4 days, or stay awhile for feel lik a local.
Good For:  Families, couples and solo travelers
A Little History:  
Before we get into your guide to Maine, we have a little history lessons. This northernmost mainland state has a wealth of geography. In addition, it also has a considerable history as the retreat for New York socialites like the Rockefellers, Vanderbilts, and Astors. Much like Newport, Rhode Island or the Hamptons, Maine was a place for the wealthy elite to venture to when in need of a break from city life. And, located just a touch farther from the city than the former two, Maine became known as the place where the elite could really let their hair down. It's pretty much the same today; you won't see a Kardashian in sight.  However, you will see families whose great great great great grandmother came over on the Mayflower.  The key here is discreet.
As Usual, Cool Places Start with the Artists 
It all began with the Hudson River School artists of the mid-19th century. This group of landscape painters produced art that is renowned by artists and collectors alike for its "luminism".  Luminism is a style whose beautiful light and aerial views of nature evoked a sense of peace and calm. These artists' bucolic, pastoral scenes of New York and New England wilderness also attracted the wealthy families to the area in search of such landscape.
Acadia National Park's wild and rugged beauty has always been a sight for sore eyes and has served as inspiration for landscape painters. During the Gilded Age, it the became the go-to summer retreat locale.  The area has some of the 19th century's most luxurious gardens and estates overlooking its natural beauty.
A Turning Point 
The Great Fires of 1947 tragically swept through the state, destroying half of Acadia National Park and its neighboring mansions, thereby ended the reign of New York socialites in Maine and marked a turning point in the state's culture. Today, Maine remains a natural treasure and has become one of the most popular summer destinations for vacationers from near and far.  It has a robust local life full of nostalgic culture and seaside fun.
A Special Thank You 
A huge thank you to our Tastemakers Scott and Tory Caputo for their inside track on Maine. They pretty much gave us every single one of these recommendations for the guide to Maine.   They're our experts, having decamped there for the summer.  Actually, they are our experts anywhere else they travel in the world.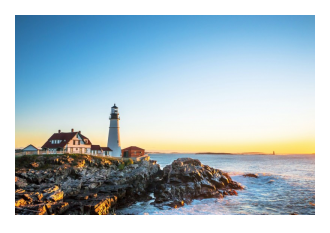 The Highlights of the Guide to Maine:  
·      We love Portland for its vibrant, cool vibes and its unexpected contrasts. A historical port city, Portland is where to go to check out antique shops, microbreweries, and dozens of cool historical stores.  It's also a destination because of the incredible beaches and a coastal, harbor side energy.
·      Home cooking and high-end fine dining coexist along cobblestone streets, and farmers markets. Bigwig chefs go are also visited by locals.  Portland has one of the most under-the-radar food scenes on the East Coast.
·      You can go anywhere in Portland and look at something beautiful. The West End has some incredible historic architecture. Both its Eastern and Western Promenades have stunning coastal views.
A Historical Port 
An operating port since the 17th century, Portland has deep historical roots.  You can explore history in family friendly museums like the Portland Museum of Art.  The museum showcases work by American realists and impressionists such as Rockwell Kent, Andrew Wyeth, and Marsden Hartley. For history and design buffs, visit Victoria Mansion.  The mansion is now a museum where you can see mid-19th century designer Gustave Herter's stained-glass skylight and mind-boggling colors.
Day Trips
For fun COVID-19 friendly day trips, Portland's Casco bay has regular ferries on various lines to Peaks. At Peaks, you can find WWII-era bunkers and equally cool street art. Or if you want to stay out at sea, make a fishing trip of it.  Lucky Catch Lobster Tour will set you off to haul, catch and bait your own dinner aboard the famous Lucky Catch. When back in town, round off the afternoon with a stop at Holy Donut.  Their potato donuts became a staple in Maine during the Great Depression and are still enjoyed today.
Food
Speaking of food, Portland also has the second highest number of restaurants per capita in the US.  Portland was named Bon Appétit's "best restaurant city of the year" in 2018 for its plethora of award-winning chefs. If you're looking to eat out, you truly can't go wrong in Portland. If you're craving seafood, you should head to one of the country's coolest working waterfronts, Old Port.  Walk along the harbor and you will find dozens of farm or sea to table options.  Portland's award winners are plentiful but we recommend David's, Duckfat, Hugo, and Fore Street Restaurant. You should also wander the streets for yourself to uncover the many more that the city has to offer.
Beaches
Of course, arguably the most compelling Maine experience is simply relaxing on one of Maine's idyllic beaches. It's one of the top destinations for the guide to Maine.  Though you pretty much can't go wrong at any of the big beaches and can even find many smaller private beaches to enjoy.  We recommend Popham and Scarborough for their miles of sand and accompanying parkland. Locals and visitors alike spend all day relaxing and swimming on these super New England beaches. We also love Willard Beach in South Portland, which is a little rockier but a favorite among dog walkers.  It is a great place to puppy- and people-watch with the fam.
Where to Eat:
Don't be fooled by Duckfat's status as a three-time Food Network Chopped champion. This family-owned and operated restaurant serves up the best local cuisine in the area. The menu staples include melt-in-your-mouth brisket paninis and famous favorites like the "duckfat" milkshake.  This contraption involves creme anglaise and fresh Tahitian vanilla bean. Right now, the restaurant is taking advantage of the outdoor situation to serve up grilled faves along with local brews.
The guide to Maine must have a stop at the White Barn Inn.  This rare AAA Five Diamond-designated and Forbes' Five-Star endorsed restaurant at White Barn Inn is the place to go for that famous lobster roll. The restaurant has won awards for its tranquil dining room and famous New England seafood-inspired cuisine. It is also the sweetest spot to go for all of those dishes you want to try when you're in Maine but with gourmet-level presentation. We're talking about a fine-dining menu complete with mini lobster rolls filled with caviar and truffles.
We've already talked about the Boston location, where we are huge, huge fans. Even better is the original Portland location of this James Beard Award-winning seafood restaurant, in the foodie capital of the state. Simply, Eventide gets any rendition of Maine lobster exactly right.  It's also a go-to spot for clams, oysters and crab, which you simply have to sample if you're in the area.
Where to Stay:
For your supplemental guide to Maine, check out our article on the Best Inns in Maine. These are the cliff notes.
Located mere minutes from Portland, this luxury inn, which is part of the LVX collection of Preferred Hotels & Resorts, puts you in the heart of cultural Portland and also right on the beach. Whether you're with the family or it's just you and your significant other, Inn by the Sea provides multiple accommodations.  The best part is they don't skimp on the luxury.  This inn is far from being the run-down beach shack rental that families might find in the state.
Two bedroom suites offer seaside views with private entrances, along with king-size beds, full hotel amenities.  But again, the best part of this five-star stay isn't even the AAA Four Diamond-designated service or the equally prestigious fine dining at the Sea Glass Restaurant. It's the proximity to the beach and town and the room to spread out with the whole crew.  This hotel is the place to stay this summer or fall.
When in Portland, you may want the city experience.   There's no better place to find your inner coastal urbanite than in the converted Portland Press Herald building.   This hotel isn't a super-luxe resort, but what it lacks in its fifth star, it makes up for in its cool ambiance. When it's you and a friend, you won't be spending much time holed up in the room anyway, so smaller sizes won't matter. But be sure to wander around because the hotel has kept remnants of the crazy cool written history that happened in the very rooms you're staying in. Also reflective of its deep artistic roots, Press Hotel has its own art gallery featuring talented local artists.
The Dining Scene 
Though you're going to want to head out to one of Portland's incredible award-winning restaurants for your meals stop by the hotel bar, Inkwell.  The bar is set in the old newsroom, and is comfortable to stay for a quick drink before heading out.  Once you do make it out onto the town, you're just a short walk away from Old Port, which is home to some of the city's most stylish shops and restaurants. And with its 19th-century architecture and cobblestone roads framing the city, it feels like stepping back in time. And yet, come nighttime, the equally modern city buzzes with clubs and restaurants. Though Press is a little below our criteria of luxury, we wouldn't mind staying here to be right in the center of it all.
Old-world charm and leisure are the MO at Black Point Inn, where Portland's elite have relaxed and enjoyed the miles of open sandy beach. It may call itself a classic Maine hotel, but though unpretentious on first impression, Black Point upholds impeccable service and charm. We're talking a grand piano in the entryway and coastal views fit for an Astor.
Although historic, the hotel has been through countless renovations and is now fully high-tech and completely green (we're talking a geothermically heated pool). Located minutes from Portland, Black Point Inn is near some of the area's best art galleries, museums, boutiques and restaurants.  So, after you've spent your day on the beach, you can come back for a quick rinse in the pool and then venture out around town.
The Rooms
There are more than 25 rooms at the hotel, including singles, connecting rooms, and larger suites with ocean views that suit any size party you want to bring along. For those lazy end-of-summer beach days, when the sunburn makes it too painful to put on real clothes, you don't even have to leave the hotel. Activities at the inn include practicing yoga on the lawn and relaxing by the pool or the massive fireplace hearth.  You can also enjoy an en-suite massage, and bike riding or hiking the Prouts Neck Cliff Walk.
And of course, this is Maine after all, so complimentary breakfast is served daily in the lobby. At the end of the day, we recommend one of the award-winning food spots just minutes away in Portland.  But the onsite restaurant, The Chart Room, is a great option for casual fine dining. It specializes in farm-to-table Maine classics and offers an unbeatable view of the coast.