Anyone who works in lifestyle has Martha to thank. She was the original, and she still sets the standard. There are not many 80 year olds who can post a thirst trap quite like she can. Martha has crushed it, no matter how you look at it. Whether it's on her farm in Bedford, at her home in Maine, or during her world travels, her life is bucket list. Here's where you, too, can explore like a boss.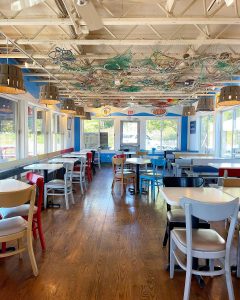 Maine
Martha's Circuit: She doesn't need to stay in a hotel when she comes to Maine. Instead, she decamps to her compound known as Skylands in Mount Desert Island. She is, however, out and about on the restaurant scene. Some days you'll find her at Bob's Clam Hut, where she'll indulge in a lobster roll. Also, she's not scared to put on a bib, when she dines at Mabel's Lobster Claw.
Botswana
Martha's Circuit: If you really want to experience safari, it's hard to beat Botswana. The Okavango Delta is a vast river system in the northern part of Botswana. The availability of water brings the wildlife out in full view. It's one of the only places where the elusive leopards are practically falling out of trees in front of you.
Martha didn't mess around when she brought her family, and posted up at Paul Allen's Abu Camp. It shouldn't be a surprise that this is arguably the most luxurious camp in Botswana. It's essentially a buyout for someone like Martha who travels deep with entourage, as there are only six tents. This is as glamping as it gets, though, with each luxury tent outfitted with its own plunge pool.
Ecuador
Martha's Circuit: Stars are just like us; their bucket lists are #goals for everyone. Martha took a lifetime trip to Quito, the capital of Ecuador, and the Galapagos Islands with her family. In Quito, they visited the cathedrals, strolled through the outdoor markets and, of course, sampled the local cuisine. The place to stay in Quito is Casa Gangotena. This is a stunning jewel box of a boutique hotel right in the center of town.
While Quito of course is nice, it's a stopover to the real destination: the Galapagos Islands. Martha opted for a boat, by Quasar Expeditions. After all, when you travel there by boat, you can see all 19 islands that are home to the most diverse indigenous species in the world.