If there's a city that may just be a requirement this winter, it's Miami. And we're casting the net even slightly further afield, into Palm Beach and Boca. Yes, Boca, because we'll follow Major Food Group anywhere. This is the roundup of where to eat in Miami.
In Miami, nothing is hotter than the temperature — but a close second is the sweep of new restaurants that have recently opened their doors. With out-of-state transplants (the restaurants, that is), there's no shortage of competition. Old favorites — like Joe's Stone Crab for dinner and Zak the Baker for pastries and a casual breakfast or lunch — will remain staples. (Trust us: They aren't going anywhere anytime soon.) But if you're looking for new and unique hot spots that will impress your friends and satisfy the table, book reservations and grab a seat in these buzzy dining rooms. Here's where to eat in Miami now.

The Restaurant: Dirty French Steakhouse
The Location: Miami
Although you might know Dirty French (and all other Major Food Group destinations) by its New York location's reputation, Dirty French Steakhouse in Miami has a menu of bold flavors with French influences. Perhaps it's known for its World Famous Prime Rib (it is a "steakhouse" after all), but pescatarians can also find a plethora of fish options, from diver scallops to tuna tartare to lobster ravioli and more.
Address: 1200 Brickell Ave., Miami

The Restaurant: Sexy Fish
The Location: Miami
Hailing from London, Sexy Fish serves Asian fare by Michelin-starred chef Björn Weissgerber, and it's where to eat in Miami now. The menu is elaborate — snacks, caviar, tartare, oysters, rice, meat, wagyu, and beyond — but don't be surprised when it's the ambiance that catches your eye and your phone camera first. After 10 p.m. on Thursdays through Saturdays, the venue turns into a high-energy spot with a DJ spinning during drinks and dinner.
Address: 1001 S. Miami Ave, Miami

The Restaurant: Flamingo Grill
The Location: Boca Raton
The Flamingo Grill steakhouse is always on point — especially in Miami, where it just begs to bring back the Golden Age. Major Food Group has its talons in the revamped Boca Raton Resort to where it's a city of eateries worth a trip in and of itself. The Flamingo is perfect for when you really want a great dinner, table-side preparations and all. After tucking into your steak or seafood — a not-to-miss is the Banana Split Flambée theatrics for dessert.
Address: 501 E. Camino Real, Boca Raton

The Restaurant: Sushi Bar 
The Location: Miami Beach
The definition of exclusivity is an intimate sushi counter with 10 seats. Known for being the reservation hardest to come by in Austin, Sushi Bar Miami Beach now calls South Beach's Esmé Hotel home. It definitely belongs on the list of where to eat in Miami now. Here, enjoy a 17-course meal prepared by one of the only female omakase chefs, Ambreley Ouimette. The menu changes daily, so each culinary experience will be different from the last.
Address: 1438 Washington Ave., Miami Beach

The Restaurant: True Food Kitchen
The Location: Miami
Healthy-ish foodies unite. If it's good enough for Oprah, it's good enough for us. Ms. Winfrey is a co-founder. She and her medical expert Dr. Andrew Weil have opened an eatery equipped with an anti-inflammatory menu. True Food Kitchen dishes include edamame dumplings, mushroom pizza, squash pie (seasonal), and more. If you're in the Falls shopping center looking for a bite before the beach… Bon appétit!
Address: 8888 SW 136th St. Suite 340A, Miami

The Restaurant: Sadelle's
The Location: Boca Raton
For a "just wow" brunch, Major Food Group has done it again at its Boca Raton Sadelle's outpost. At Sadelle's, we all know brunch is an institution. Located at the Boca Raton Resort, members and guests have an opportunity nosh on Sadelle's famous bagels and partake in breakfast and lunch harborside. In fact, French toast and crispy potato latkes sound really good right about now.
Address: 501 E. Camino Real, Boca Raton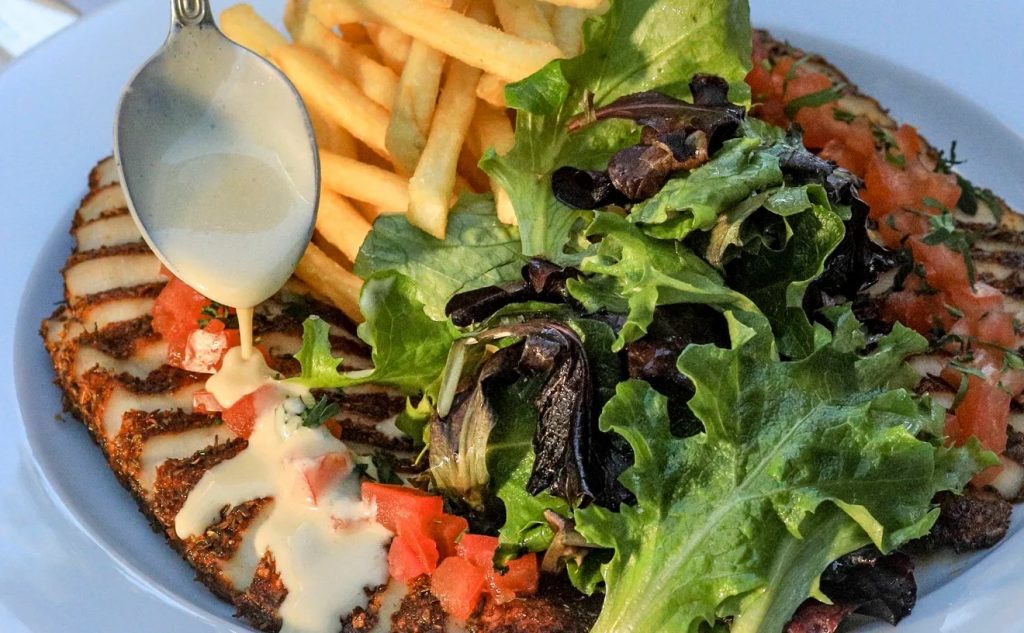 The Restaurant: Le Bilboquet
The Location: Palm Beach
Le Bilboquet's New York aesthetic has been refreshingly relocated to Worth Avenue's Via Encantada. Nearing its two-year anniversary, the elevated French Bistro has consistently incorporated local South Florida ingredients and fresh catches onto its menu. But the classic NY chicken dish, Le Poulet Cajun, has become one of the most popular dishes on the island. While the recipe remains a secret, all we can say is combining over 20 spices in a multistep cooking process creates very juicy chicken.
Address: 245a Worth Ave., Palm Beach

The Restaurant: Amal Coconut Grove
The Location: Miami
Flavorful Middle Eastern dishes for sharing are the specialty at Amal, so bring friends. With dips (hummus, baba ghanoush, and garlic labneh) to salads, hot mezze, skewers, and mains, such as grilled tiger shrimps, there are no wrong choices here. The chef is a Miami veteran, having worked in the kitchens of Astra (as head chef), Jaya at the Setai, and Estiatorio Milos. The restaurant's stunning white and terracotta interior is inspired by Lebanon's shoreline. With 180 seats, there's plenty of space — but in case that's not enough, Amal will soon be opening a rooftop extension.
Address: 3480 Main Highway, Miami
Related Articles