We've asked ourselves more than once, why is Sicily not the most popular place to visit in Italy? Well, the competition is fierce, since it's a country where really it's all good. But it's also what makes this island off the tip of the boot of Italia such special place to visit, One of the highlights of Sicily is a hotel that overlooks Mount Etna, an ancient Roman amphitheater and the Mediterranean Sea. Our pick for your 2021 travels is the Timeo — for so many reasons.
The Belmond, owned by LVMH, took over the Grand Hotel Timeo and sister hotel Villa Sant' Andrea and reopened them after a gut reno in 2010.  Even for hard-core Belmond standards, they've outdone themselves.  The Timeo is in the heart of Taormina, calling the Teatro Greco, a 1st Century Greek Theater, its neighbor.  There's even a secret entrance from the Timeo to the theater; just ask Russell Crowe and Amy Adams, who were shuttled through for the Taormina Film Festival.  From the terrace, which has the best aperitivo hour in town, you are in prime position to take in views of Mount Etna, the highest active volcano in Europe.  Don't be surprised if you have life revelations from this vantage point, as this is what it's all about.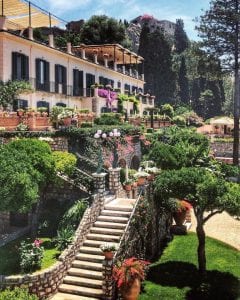 Rooms define exquisite, especially if you book Room 320, a junior suite with its own wraparound terrace.  Nothing but a corner apartment will do after this.  While the hotel was completely renovated, top to bottom, rooms are lavishly comfortable and retain the character of a old school Sicilian villa, as if you were the guest in a noble friend's home.
The unplug, relax and gelato therapy begins at the hotel pool, where they serve up the best almond granita in town and the vintage gelato truck is just a little too close to your lounger to not be on a thrice gelato a day diet.  As for service, you just won't find anything better.  Unlike most hotel concierges who will send you to the nearest restaurant where fanny packs and cruise stops are all the rage, their team will get you to the best local pizza joint, and top tables you're not going to find in the guides.
The energy of the hotel puts you immediately into vacation mode, and the team has the highest level of service while still bringing the Sicilian authenticity and genuine welcome.  While the hotel is at a premium rate as you'd expect, there is more value in the hotel rooms as well as the overall experience in Sicily.  So if you're vaccinated, and comfortable traveling, Sicily is the spot well into the fall to put on your 2021 list.