Mia Ljungberg Nevado lives in Sagaponack year-round with her husband and two sons. Mia writes for Hamptons Magazine, Purist, Family Traveler Magazine, among others.
Mia Ljungberg Nevado lives in Sagaponack year-round with her husband and two sons. Mia writes for Hamptons Magazine, Purist, Family Traveler Magazine, among others.
There is no place like the Hamptons in summertime. The combination of pristine beaches, farmer's markets, and nature makes this my favorite place in the entire world. I have been a travel writer for twenty years and have travelled to some of the most beautiful places on earth. But when I first came to the Hamptons ten years ago and put my feet in the sand at Main Beach, it was love at first sight.
What To Do
I begin my mornings at the beach, and continue to local Fitness Guru Tracy Anderson´s studio in Water Mill. There is no place like Tracy Anderson's for a workout. She has taught me to love my body even more after I turned 40. After each class, you leave feeling energized, happier, and the high heat and humidity part of her program leaves your skin smooth, like a baby's. Just make sure to sign up in advance – the classes are understandably popular.
After a day in the sun, I love to treat myself to a Spa Treatment at ONDA Spa in Sag Harbor. Local actress Naomi Watts and her two besties Sarah Bryden Brown and Larissa Thomson founded ONDA together, and their spa-and-beauty store is a must-visit when in the Hamptons. Together, they have curated a mostly organic and sustainable collection of the best skincare products on the market. I love the CBD massage, as well as getting a reading by the sought-after psychicand medium Christiana McMahon. But again, make sure to book in advance.
One of the many perks about living year-roundin Sagaponack is that I get to enjoy the magical garden of The Madoo Conservancy. It's the former home of painter Robert Dash, which is now a conservatory, to which people travel from far and beyond to visit this oasis in the heart of Sagaponack. Their summer benefit cocktail (which is on Saturday, June 15 this year) is one of all-time my favorites. It's intimate, and marks the start of summer for me.
Another favorite summer event is the Long House Reserve Summer Benefit on July 20. This year, LongHouse is honoring Donna Karan and Julian Schnabel. Laurie Anderson will be performing, which means that it will be a magical night under (and with) the stars. Long House Reserve is one of the world's most photographed sculpture gardens with works by Yoko Ono, De Koonig, Helmut Lang, and that's just to name a few. The garden offers different tours and events throughout the summer.
Art Barge in Napeague is another crucial summer spot. This summer, trying one of their art classes is decidedly the move. The place has been around since the 1960's, when Victor D´Amico (who at the time was the Director of Education at the Museum of Modern Art) founded the Art Barge. They've been offering art classes to both children and adults ever since.
If the summer evening is as beautiful as most in the Hamptons, I continue out to Montauk to watch the sunset at Duryea's. The view is to-die-for, and they have what is probably the best seafood in all of the Hamptons. And on my way out, I make sure to stop at local surfer girl Quincy Davis Summer pop-up, where she sells a fun curated collectionof beauty products and fashion.
Where To Eat
One of the best lunch spots is Tutto il Giorno with tutta la famiglia. Tutto is owned and run by the lovely local restaurateurs Gabby Karan and her Italian husband, Gianpaolo. The way that the couple celebrates and embraces family time intrue Italian style on Sundays is inspiring. After lunch, kids can sit back in the cozy lounge sofas while learning how to make jewelry with Donna Karan's favoritelocal jewelry designer, Jennifer Anderson. And keep an eye out for their morning meditations and healthy breakfasts on Fridays during the summer.
If it gets too hectic on the mainland, I love to escape to Shelter Island for the day, and have brunchon the dock at Marie Eiffel (where Marie bakes the best croissants in all of the Hamptons), and then continue to lunch in the sun at Sunset Beach, to sip a glass of rosé and enjoy their piece-of-art crudites platter. It is the closest you can get to feeling like you're in Europe for the summer. The vibe and atmosphere are completely zen. This also pairs wonderfully with continuing down the road to the Perlman Music Institute, where they offer incredible classical concerts all summer with their students in residence.
After lunch and a concert, there is nothing better than escaping to the peaceful and scenic Ram's Head Inn for a sunset cocktail in the garden overlooking the water, while the kids run around playing.
For dinner, my favorite choice is a picnic on the beach. There is nothing better than stocking up on salads and spreads from the family-run Loaves and Fishes Food Store that has been around since 1980, and is located right on Sagg Main in Sagaponack. Pick up a bottle of "Summer in the Bottle" at Wölffer Wine Estate and continue down the road to Loaves and Fishes. Let Stefan and Valerie who run the store help you pick out the best they have for the ideal picnic dinner on the beach, just down the street from their store.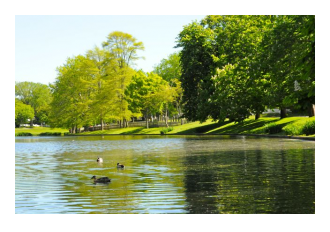 Shopping
For shopping, I love Joey Wölffer. Local mom and style icon Joey Wölffer has the best eye for vintage and new clothing mixed together, along with a fun collection of colorful jewelry to go with it. This is my go-to place for the perfect party dress or beach picnic outfit.
At Donna Karan's Urban Zen, they have some of the coziest cashmere sweaters and throws, that will keep you warm when the sun sets. Urban Zen has a wonderful collection of home accessories and jewelrymade by artisans in Africa and Haiti, and stylish, sustainable Mondrina bags, made by my favorite local designer Monica Frisbie. The best part is that all profits go to the Urban Zen Foundation that supports education, preservation of cultures, well-being and education.
For the perfect swimsuit or bikini, I recommend SHAN in East Hampton – it's the best quality I've ever come across. The swimwear is comfortable, and dries immediately. This year, SHAN has partnered up with Maison Marie Saint Pierre to create one of the better summer 2019 collections.
The iconic Thayer´s Hardware Store in Bridgehamptonisrun by the two lovely sisters Lauren and Erin, the fourth generation of the Thayer Family. The Thayer´s have the best collection of everything you need to look stylish at the beach, for a perfect picnic with chic table-wear, and all the beach toys, sun chairs, and sun umbrellas your heart desires. A great alternative choice is Carbon38 next door, for their stylish and comfortable workout collection and easy-wear section.
Welcome to my Hamptons. I can't wait to see you there.