It's time to hit the road, plane, bike or however you're getting around nowadays, to capture that last bit of summer.  We don't know what fall will bring, so carpe diem – preferably somewhere with high thread-count sheets.
The Destination:  Hasbrouck House
Just two hours outside of the city, this five star, Mid-Hudson valley retreat is everything you need for a relaxing, away from the bustle getaway.  From deliciously savory farm to table fine dining, to on site yoga lessons, this newly renovated hotel has all the modern amenities a five star hotel should, and is just off-the-beaten path enough for a true escape.
The Accommodations:
The hotel features 25 uniquely designed rooms in four 18th Century Dutch style historic buildings The Dutch vibe continues in the interiors, with luxuriously vintage design furnished with the local heritage at heart to make you feel like you're at home, while you definitely are not at home.
What to do:
Here, you spend your mornings lounging by the 100 year old and 55 foot landmark pool, and your afternoons wandering the geranium blooming gardens. At night you sit on your terrace and count the shooting stars by the bonfire. There's nothing about staying here that isn't Zen.  The 50 acre property boasts a private lake for you to dip your toes in or enjoy a walk around. And if you're feeling adventurous, is easily accessible to the Catskills.
The Destination:  Gurneys Star Island Montauk
What do A 2,000 foot private beach, a converted yacht, club, and North America's only Olympic sized ocean-fed swimming pool have in common? You can find them all at Gurney's Star Island resort. The latest partner to the established Gurneys Resort and Spa in Montauk, Star Island is the place to go to make your summer last just a little bit longer. The club and resort is set on an iconic marina and has new and improved five star amenities, including a kid's club and private BMW test drives.
The Accommodations:
The boating inspired decor in all of the 107 waterfront rooms and suites satisfies both the craving for the upscale yet free-spirited life of the Hamptons.  These are not the most luxe rooms in Montauk but they are comfortable and give you access to the convenience of a full-service resort.
What to do:
Despite the 15 acres worth of beach, bar, and boat house, you won't feel at all secluded. The resort provides easy access to the world class spa of its sister property and activities like strolls through town or to nearby Kirk Park Beach known for surfing. The culinary game is strong, where they are known for their sriracha lobster roll which you can nosh on at the beach club.  Dining is focused on  farm to table at all three of their restaurants. Il Forno, near the Beach Club serves legit stone cooked pizzas and New York's own Van Leeuwen ice cream, while Showfish offers fine dining seafood fare freshly caught by the day. And once you've had your fill, we recommend one of the famous sunset cruises to wind down.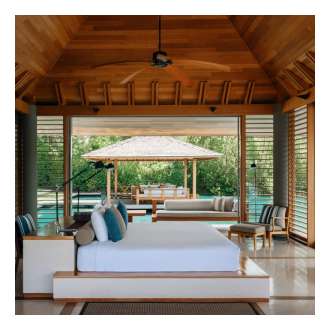 The Destination: Amanyara in Turks and Caicos
We think that this labor day more than any other you deserve a full throttle, celebrity approved, discreet luxury in a  five- star tropical vacation. That's exactly what you'll find at Amanyara.  It's hard to distill everything we love about this hotel into a paragraph.
The Accommodations:
Imagine luxury timber villas and pavilions set on a private tropical beach. A stay at Amanyara is like visiting an oasis of calm where everything you need is at the touch of a button. Select villas and rooms  include private ponds and reflecting pools furnished with woody minimalism and an Asian-inspired elegance that is signature Aman.
What to Do:
Award winning dining, wellness retreat options, and bespoke service for everything from boxing lessons, tennis to bonfire-side dinners. In the Caribbean, it's hard to beat the activities and amenities at Amanyara. After morning dip, you can take a paddleboard out onto the ocean before returning to lounge on maybe the nicest stretch of beach in the region, or retreat to your timber sun deck while sipping afternoon tea. Adventures include snorkeling and scuba diving, hiking, and fishing, and even crash courses in real life marine biology, (you know, to wake up your brain again before September school starts). Speaking of school, the resort will create so many activities for your kids, it's like their own summer camp.
The Destination:  Mandarin Oriental Canouan
The Mandarin Oriental collections never really let us down, and that's certainly true for Canouan. This Caribbean escape nestled on the island of tortoises is a multiple award winner and our go to for luxury amidst the easy breezy tropics.
The Accommodations:
You know you're in for a good time when you're greeted by your private butler, who greets you with a fresh coconut drink en route to your stay in one of 26 suites, villas, or penthouses. If you need anything from managing your busy schedule of spa and yoga, forgot your phone charger in your room or want to arrange a private dinner on the beach, your butler is at your service. As usual, Mandarin Oriental's attention to detail is perfection and the private suites and villas feature private pools and world renowned Italian architecture fit for a fancy friends trip, or a family getaway.
What to do: 
During the day you can keep busy swimming laps at the infinity pool or hiking in the nearby wildlife. Or you can challenge your group to a match of tennis or round of golf. Some say the highlight is that the resort is the kind of place that brings you what you never knew you needed before you even think of asking, whether it's warm milk to wind down at the end of a long day in the sun, or movie requests to be played on your personal TV which appears from inside the floor to ceiling sliding mirror. And of course there's the impeccable food. On site dining features a rotation of restaurants for you to sample deliciously fresh caught seafood and local fare.
The Destination:  Sugar Beach, A Viceroy Resort St. Lucia
St. Lucia joins a handful of Caribbean Islands that are now open to Americans, and if you're looking to work from home with a different change of scenery even after Labor Day, Sugar Beach should be on your list.  For its large footprint, world-class tennis, nature walks and stunning beach setting that looks more like Asia than it does the Caribbean, Sugar Beach is the place to be.
The Accommodations:
Rooms have received a cosmetic upgrade to feel more modern and fresh with white interior design versus the traditional Caribbean prints.  Standard rooms are standalone cottages with front and back courtyards with plunge pools to cool off in the hot and humid Caribbean sun.  They are comfortable, nothing to write home about but well-located near the Terrace restaurant, which is where breakfast in non-COVID times is served.  Our advice is to upgrade your room to a beach front, because you are at Sugar Beach for that stunning water setting, or go big and rent one of the modern villas that really feel like a Viceroy design and have their own access to the water.
What to do:
In the current phase of opening, you are confined to your resort on the island, where boat experiences are the only off-campus activities allowed.  That's part of why Sugar Beach is maybe the best current option on St. Lucia, because the footprint of the resort is large, providing the chance to do nature hikes, long walks through the hilly property which are a workout unto themselves and get some quality time in at their beach.  With a beach almost too perfectly set between lush green mountains it's hard to believe it's all Mother Nature, this is one of the most unique playas in the Caribbean.  The island is lush, unspoiled and stunning, and when hotel-guided activities will be allowed, the waterfall and volcano should be top of the list.  In the meantime the spa, tennis, gym, boating, kayaks, paddleboards and inner-tubing adventures will be more than enough to fill a long weekend to those who make this a work from home spot for a week or two.