We know we're Galavante, your resource for all the good, happy and aspirational in life. There are some events, though, that require a pause for just a moment. Such as today, as we take a break from which luxury hand sanitizer to use, where to stay in Lake Como and how to vacation like George and Amal. Don't worry, we'll be back to the regularly scheduled programming next week.
What has always made us unique at Galavante is our focus on social impact and philanthropy. We don't lead with this, but that's who we are, and why we travel the world. The luxury hotels, restaurants, chefs, well that's gravy.
Afghanistan 
Today, we want to talk about Afghanistan. Afghanistan fell to the Taliban this past weekend. Some would say Afghanistan no longer exists, as the Taliban now flies its flags around the country. No matter how you look at it, this seismic event is a world security threat and humanitarian crisis.  Afghanistan may be continents away.  However, unless we hold the Taliban accountable to human standards of conduct, terrorism and extremism will proliferate.  This impacts each and every one of us.  I cannot share messages now due to security issues, but I have received hundreds of emails from Afghans whose lives are in imminent danger.  It's nothing short of horrific to see this happening in the world today.
What Will the Future Be with the Taliban
For those who think that this is a gentler Taliban that will play diplomatically with the world, well, I hope you are right. However, actions speak louder than words. Within 48 hours of gaining power, there are credible reports that the Taliban has intimidated women to wear the burqa, not go to work and have pulled girls out of school. In certain regions, they have gathered the names of unmarried women ages 12–45 to assign them to marry Taliban soldiers. Among the people in general, not just women, they are hunting anyone who helped the Americans or were educated by the Americans, whose fate will likely be death.  This is the humanitarian crisis of our generation.  The Taliban may play nice while the international community is currently watching, but unhampered, the human rights violations will be devastating.  Afghanistan is not just newsworthy today.  With the Taliban in power, this is an ongoing crisis for the Afghan people.
The American University of Afghanistan in Kabul 
I had the privilege to guest lecture at the American University of Afghanistan (AUAF) in Kabul in 2019. I've been to a lot of places in the world, but this country, this place and these students — they found their way into my heart. This experience changed my life.  I have stayed in very close contact with a number of the students, who I have the privilege to mentor.
Afghanistan is layered, complex and chaotically beautiful. There is no place like it. AUAF was evacuated when it became clear that Kabul would fall. Its administration has been nothing short of heroic, working around the clock to ensure the safety and well-being of the students. I heard that on Monday the Taliban took over the empty campus, but to be clear, they did not take over AUAF. The heart of AUAF is its people. Although they currently are displaced, these students will one day be the future that reestablishes Afghanistan.  I will provide an update once the students and alumni are all to safety, but know that AUAF continues.  I have never had so much respect for educators in my life.
So this week, we dedicate The Weekly to all the brave military, educators and the people of Afghanistan. We must not turn our backs on this country.
To Afghanistan, with love,
Christine Drinan
Founder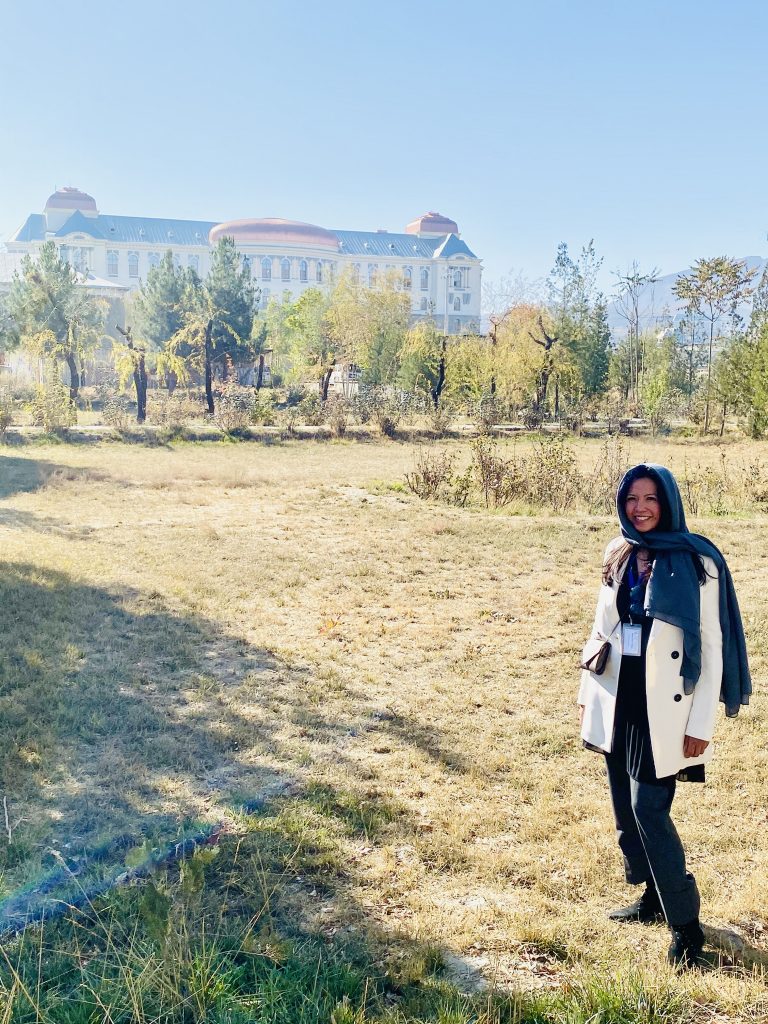 2019 at the National Museum
of Art in Kabul