When Christmastime rolls around, to some this means it's time to do your shopping, to some it's time to stay snuggled up at home with a glass of mulled wine, and to some, it means it's time to plan the most amazing vacation of the year. And although we can't really help with the first two, we can certainly volunteer our two cents on the latter. Here are our top five locations for this winter holiday trips.
Tetiaroa in French Polynesia
The Brando is a celebrity hotspot in the literal sense of the word: Marlon Brando purchased the isle with the vision of creating a paradise resort. Since then, Barack and Michelle Obama, Oprah, Leonardo di Caprio, Pippa Middleton, and Barbara Streisand, have all spent many-a-vacations at the resort. It's set on a private Tahitian island, with white sandy beaches, a turquoise lagoon, and the whole place is eco-friendly. As far as winter holiday trips go, this one is a very safe bet.
Paris, France
If your last-minute Christmas trip involves Paris, there's no shortage of hotels to turn to. La Reserve, is one of those it's-so-French-it-hurts kind of places. There's classic décor in all the common areas, and it feels like a home. Alternatively, Hotel Lutetia is one of the newest, hottest Parisian destinations, and one of the only luxury hotels settled on the left bank. And perhaps the most classic place to stay is the Georges V, right by Champs-Élysées, with three Michelin-starred restaurants inside the hotel itself. Wherever you choose to stay, Paris may be beautiful all year round, but there's really no place like it around the festive season.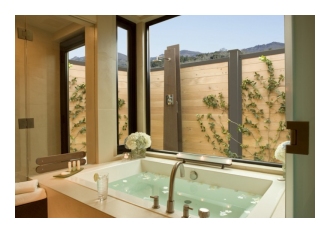 Napa Valley, California
The place to stay in Napa is the Bardessono. It may be snowing all around the world, but here, it's a genuine, warm California welcome. The location can't be beat: after wine-tasting all day, you can walk (or sway) into town for dinner at Bouchons Bistro, and you'll be just minutes away from the best English muffin of your life at Model Bakery.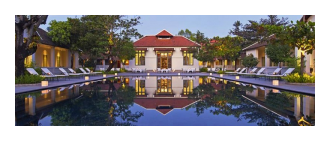 Luang Prabang, Laos
Tucked away in Laos's spiritual capital, lies Amantaka: Aman's historic garden estate resort in the heart of a Unesco World Heritage Site, at the foot of the sacred Mount Phousi. In other words, the place to stay in Laos. We're talking private pools, twenty-four colonial-style suites, and of course, the signature Aman spa that's worth the trip to Laos alone. Other than that, it's seasonal Laos-and-French menus at the Dining Room and Pool Terrace, personal invitations to participate in Luang Prabang's traditional Buddhist rituals and ceremonies, and other signature Aman experiences. Not too shabby for a last-minute holiday getaway.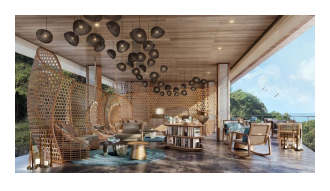 Cambodia
The Six Senses Krabey Island is what you get when you meld together a private island with authentic, unspoiled culture, and one of the best luxury hotel providers in the world. The rooms are high-tech and luxurious, the hotel is equipped with private plunge pools, beachside views, and a wellness center that makes you feel like ten years younger. Better yet, those guys offer a full in-depth analysis of your health along with a road map for living a healthier lifestyle. Basically, by the time you return home in 2020, you'll be a whole new person.
Alternatively, the Rosewood Phnom Penh is equipped with a Rosewood spa with views from the treatment rooms, a mani-pedi studio, a fitness center, a pool, and five dining options (and that's just if you choose never to leave the hotel). When it comes to the food, they can give many-a-Parisian restaurants a run for their money.
But most importantly, no trip to Cambodia is complete without stopping by the charity PSE (Pour Un Sourire D'Enfant), and making even a small difference. PSE's work takes the most destitute of children who are living and eating in garbage dumps, and providing them with an education and practical job skills to better their lives in the future. Because regardless of where you choose to stay this holiday season, this is what Christmas is all about in the first place.