As I write this, I'm sadly not back in NYC yet, but there's no reason to cry for me Argentina. I'm in Corsica for a friend's wedding, then heading to my favorite hotel for a few days. But my head is back to business, just like the theme of our first September issue: NYC. No matter where I travel, New York will always be the center of my universe.
The NYC September Issue
There's nothing like NYC in the month of September, when we all come back from our summer travels. The energy, busy streets and packed restaurants are something that I look forward to every year. It's nice to be back to school, both literally and figuratively, right after Labor Day. We started the September Issue, which is a riff off Vogue's tradition, as an ode to NYC. You can live here your entire life and not experience everything this city has to offer. I have been to over 130 countries, and if all goes to plan, I'll hit 150 by the end of this year. And yet, in all my travels around the world, there's no city like NYC. New York is the love of my life, so this issue is one of my personal favorites every year. So check out everything from the best restaurants in NYC to the best of beauty. And then you'll know about 20 percent of my secrets.
We're on Vacation Planning the Next Vacation
I don't know about you, but as I sat in the Hamptons for only 24 hours this summer, I spent part of it planning my next travels. Also uncharacteristically, I was thinking about Christmas to New Year's. I normally book those trips about December 15th, but I think this year will require some advance planning. In the fall, expect some fun ideas of where to spend the holidays. But before then, September and October are some of the best months in Europe. The crowds subside and you get an authentic look at destinations, from Mykonos to the south of France. I'm headed to Villa La Coste, Corsica, and to my happy place, the Hotel du Cap in Antibes, this week. Of course I'll have a full report.
So welcome back New York. We missed you.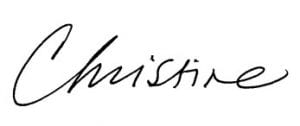 Christine Drinan
Founder
Related Articles