Maybe it's because of the Duomo. Or because we're in the midst of white-truffle season. It could be that Florence is just one of the best year-round destinations there is. Whatever the reason, Florence is always a good idea. And this is where to eat in Florence now.

Chic Nonna
The Restaurant:
Hot off the presses: Chic Nonna earned a 2023 Michelin star this year, and for good reason. Executive chef Vito Mollica creates ambition-laden dishes that mix traditional Tuscan cuisine with an international influence. In other words, he takes Italian food next level and makes Chic Nonna where to eat in Florence.
It should be no surprise though; Chef Mollica helmed the kitchen at the Michelin-starred restaurant at the Four Seasons for over a decade. His Chic Nonna empire extends to the original in Dubai, and now he's back home in Florence creating culinary genius. If you ask Florentines who know their food, Chic Nonna is a favorite for special occasions. For everyday, they have a casual bar and restaurant where locals and visitors alike share plates of pasta over glasses of Brunello. 

The Scoop: 
The space of Chic Nonna is historic, and much of it is original with frescos from the 16th-century artist Alessandro Allori. There is an à la carte menu in addition to two tasting menus (one traditional and one vegetarian). Chic Nonna also has a wine list of regional selections to compliment the dishes.

Specialty Dishes:
The seared scallops and the risotto caprese with basil-marinated langoustine are memorable. Also on the menu is Chef Vito's classic cavatelli with red shrimp and squid, that's so tender it almost melts in your mouth.
Address: Via del Corso, 6, 50122 Firenze FI, Italy

Gucci Osteria
The Restaurant:
Gucci Osteria opened in 2018 with much of the same style and creativity that is part of the brand. The restaurant is inspired by the culinary philosophy of world-renowned chef Massimo Battura. Gucci Osteria is the full experience. It's located right next to the Uffizi, in one of the most beautiful squares in Florence. The restaurant is on the first floor of the Gucci Museum, so is a pilgrimage of sorts for those who are into the iconic brand.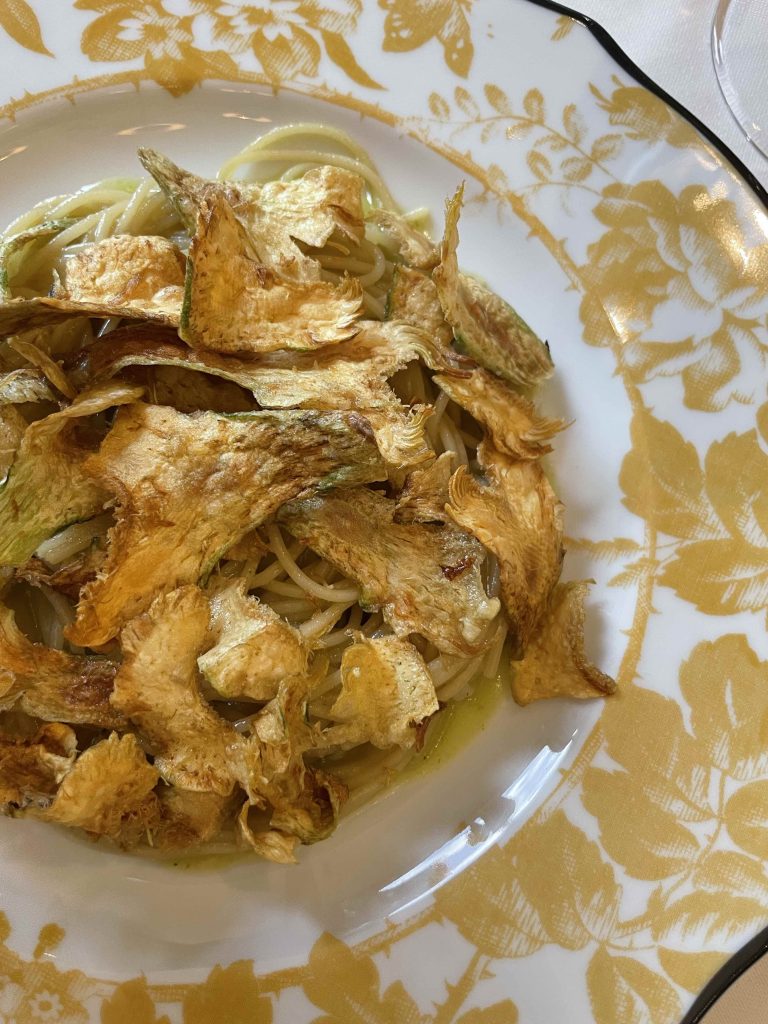 The Scoop:
In Florence, Gucci Osteria is led by chef Karime López, who hails from Mexico. You can choose between an à la carte menu and a tasting menu of six or nine courses. This will not be like any other meal you'll have in Florence; Gucci Osteria is highly orchestrated and slightly dramatic. The menu is highly influenced by Lopez's culinary travels and Mexican heritage. Case in point: there's currently a Mexican inspired tostada with yellowtail that looks more like art than food. The restaurant is where to eat for those who are really into Gucci. You'll find an interesting mix of fashion insiders, influencers taking their photos for the Gram' and foodies.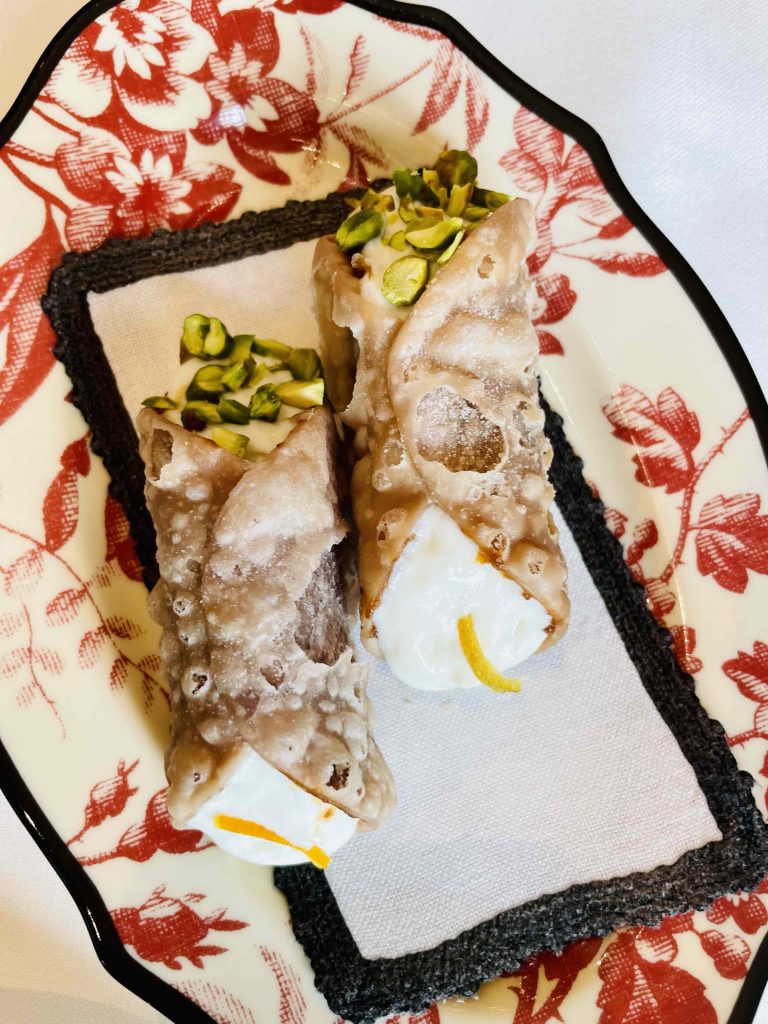 Specialty Dishes:
The tortellini with white truffle is the dish of the moment, because when in Florence, and when in truffle season. You can also order the savory bite-sized cannoli that's filled with ricotta and chianina ragu.
Address: Piazza della Signoria, 10, 50122 Firenze FI, Italy

Caffè dell'Oro
The Restaurant:
Caffè dell'Oro is a contemporary Italian café with one of the best views of the Ponte Vecchio. It's where to eat in Florence for a quick drink or a bite, as an all-day dining spot. The tables outside are prime to watch the renowned Florentine sunsets over the Arno River.
The Scoop:
The atmosphere is as chic, as you would expect from the design house of Ferragamo. The interior boasts a 1950s decor that includes vintage furnishings where it's all about the details, from the place settings to the fresh flowers on the tables. Chef Antonio Minichiello brings a contemporary approach to traditional Italian cuisine. In addition, be sure to check out the La Terrazza Rooftop Bar for its prime views of the Arno and a good people-watching scene.
Specialty Dishes:
Some must-tries are the salmon, the truffle pasta, and the tiramisu.
Address: Lungarno degli Acciaiuoli, 4, 50123 Firenze FI, Italy

Locale
The Restaurant:
Locale Firenze is located in a historic palace that transports visitors to the 13th century. The interior rooms are decorated with furniture and art fit for a museum. When Locale came onto the scene, it was part of a new emergence of trendy restaurants to arrive in Florence. It's still a local favorite (no pun intended), including by local chefs who like to stop by for a cocktail and bite when they're off-duty. This is where to eat in Florence when you want to go somewhere cool, and hang with the locals. 
The Scoop:
The bar has its own "scultura" (sculpture) and 'pittura' (painting) section. These two menu categories include an array of drinks inspired and themed around the art. Chef Simone Caponnetto offers three tasting menus that take diners on a culinary adventure. 
Specialty Dishes:
Although there are plenty of solid dishes on the menu, Locale is known for their inspired drinks menu. Order one or two of these specialty drinks while enjoying the atmosphere and people-watching.
Address: Via delle Seggiole, 12r, 50122 Firenze FI, Italy

Rivoire
The Restaurant:
Enrico Rivoire was originally the royal family's chocolate supplier. He set up a "steam chocolate factory" in Florence in 1872. Though renowned for its chocolate, Rivoire is also a gourmet restaurant and where to eat in Florence near the Uffizi for lunch or at least a coffee. It's one of those places in Florence that just makes you happy to drop by.
The Scoop:
The restaurant is led by Florentine chef Luigi Incrocci. He focuses on simple and authentic Tuscan cuisine while still being innovative with his dishes. Incrocci creates an elevated menu by respecting the integrity of the food and playing with unique ingredient combinations.
Specialty Dishes:
Of course you must sample some of Rivoire's chocolates, which also make great gifts. Subsequently, Rivoire is a great place to have some coffee and pastries while watching the tourists at Piazza della Signora.
Address: Piazza della Signoria, 5/R, 50122 Firenze FI, Italy

Trattoria 4 Leoni
The Restaurant:
Trattoria 4 Leoni is located by the Arno River between Ponte Vecchio and Palazzo Pitti. The atmosphere retains its old world charm in the heart of Florence. This is as classic as it gets and where to eat in Florence for a no-frills authentic meal. 
The Scoop:
The restaurant serves traditional Tuscan cuisine. Dishes vary according to the seasons and the availability of the market. However, there's always a variety of classic menu items like stuffed pastas, oven-baked lasagne, and grilled octopus.
Specialty Dishes:
A favorite dish all year round is the "bistecca alla fiorentina" (T-bone steak) that is famous in the region. In fact, we think it's a rule that you can't go to Florence without trying the famous Florentine steak, at least once. In addition, for dessert there is the traditional "cantuccini"(almond biscuits).
Address: Via dei Vellutini, 1r, 50125 Firenze FI, Italy

La Giostra
The Restaurant:
La Giostra is located in Florence's historic center between the Duomo and the Piazza Santa Croce. The 16-century brick arches are bathed in warm lights. The menu focuses on traditional Tuscan cuisine, with slow-cooked dishes that are authentic and rich.  
The Scoop:
The legend legend La Giostra a Habsburg prince. He was well known for his food and recipes and opened a restaurant in Florence. Giostra is a family affair that has passed down through generations. There's absolutely no pretense here; you'll even see a Hapsburg Count working the room and copiously shaving white truffle on pasta. Giostra is famous for both its food and its history, and is an essential stop in Florence for lunch or dinner. 
Specialty Dishes:
La Giostra is known for its extensive and curated wine list. A constantly changing menu always has both vegetarian and vegan options. If you like white truffle, this is one of the places to eat where it won't break your bank. Additionally, for dessert, the place offers an incredible tiramisu and a Sacher torte (chocolate cake). After all, the family is from the Hapsburg Empire in Austria, so they know how to make the famed Sacher torte.
Address: Borgo Pinti, 10/18R, 50121 Firenze FI, Italy

Trattoria Camillo
The Restaurant:
Trattoria Camillo opened in the 1940s and is a staple place to experience authentic Tuscan cuisine. The interior is decorated with famous patrons' photographs, as you'll see in many place throughout Italy. Cammillo in a nutshell is lively, with packed tables and tuxedoed waiters serving up classic Florentine dishes in a no-pretense atmosphere. Just get ready to be up close and personal with the tables nearby and know this is not a quiet, candlelit romantic dinner. 
The Scoop: 
Cammillo has one of the largest menus you'll find in Florence, as well as one of the best Florentine steaks. The traditional Florentine steak presentation is on the rare side. But, they'll happily throw bits of it back on the grill for those who like their meat less pink.
The pricing is one of the most fair, even in this high inflation period, in Florence.  You get good value, and no one will leave hungry. At Cammillo, you can even get a taste of white truffle pasta for less than $65 a plate. That's a steal when the same pasta is over $260 in New York. Freshly-pressed white table cloths enhance the experience, as does the charming waitstaff. The only thing to know is that when they are slammed, service can be slower. Our advice is to order up a big bottle of wine right away to wait out the height of prime dinner hours. 
Specialty Dishes:
Some standouts are the prosciutto, the foie gras, and the deep-fried sage leaves stuffed with anchovies. The "pappa al pomodoro," a thick bread soup, is the house specialty.
Address: Borgo S. Jacopo, 57/r, 50125 Firenze FI, Italy