New York may be the melting pot of the U.S., but New Orleans is the melting pot of cuisine. A fusion of Spanish, French, Native American, and West African, New Orleans offers some of the best food in the United States. There are times to tighten your belt, but a weekend in NOLA is not one of them. Here are seven essential restaurants. A big shout out to Alicia, who gave us her latest list plus her favorite classics of where to eat in New Orleans now.

Justine
Chef Justin Devillier has made quite a name for himself in the New Orleans culinary scene. The winner of the James Beard Award worked as a line cook at La Petite Grocery for six years before he and his wife Mia bought the beloved restaurant. And nine years after that, Justine was born. This French Quarter spot can be best described as a hip Parisian brasserie. The space is bustling and sophisticated, true to the French and Southern cultures that influence the menu. A pink neon sign greets you at the door, and burlesque dancers flash their feathers at the communal dining tables.

Any meal at Justine is a festive one, so prepare accordingly. The menu sports a mix of traditional French and Creole fare, with cocktails to match. Highlights include bougie shrimp & grits, deviled eggs topped with salmon caviar, and a peppercorn-crusted burger served with a side of cognac au poivre.
Café Du Monde
While we're all for avoiding the dreaded tourist trap, some places are popular for good reason. Case in point: Café du Monde, which has been around since 1862. A meal in the Jackson Square spot is about as quintessential of a New Orleans experience as you can get. It really doesn't matter whether you're in New Orleans once, or 10 times; a stop at Café du Monde is a rite of passage.

Yes, the lines are long, the crowd is buzzing, and the atmosphere is less than calming. But the beignets are 100 percent worth it. You can get to the sought-after reservations and award winning chefs later, but first, bask in the charming chaos of this historic location. For the true Café du Monde experience, pair the flaky, melt-in-your-mouth beignets with the famous café au lait. 

Compère Lapin
Chef Nina Compton, yet another James Beard Award winner, grew up in St. Lucia. But her menu at Compère Lapin is designed to take you on a flavor expedition all over the world. It's a lofty goal, but she pulls it off. The curried goat may be the best example: sweet potato gnocchi meets mustard greens, slow-braised goat, and cashews.

Here you get French culinary tradition, Italian techniques, indigenous Caribbean ingredients, and New Orleans heritage all wrapped up in one dish. And as if that wasn't impressive enough, Compère Lapin's drink program alone is worth a visit. The wine list is rivaled by the cocktail selection, an equally lengthy roster of inventive drinks. And we mean really inventive — think Szechuan-infused rum, molé bitters, and brown butter rye. The restaurant's main goal? To take food you know, and make it food you love.

Johnny's Po-Boys
Listen, we adore white table clothes and Michelin stars as much as the next person. But we also love a good hidden gem. Those miraculous, hole-in-the-wall establishments that make you feel like you've stumbled upon something magical. OK, maybe magical isn't the right word for Johnny's Po-Boys. It's about as bare-bones as you get, with red-and-white checkered table cloths and an order-at-the-counter approach.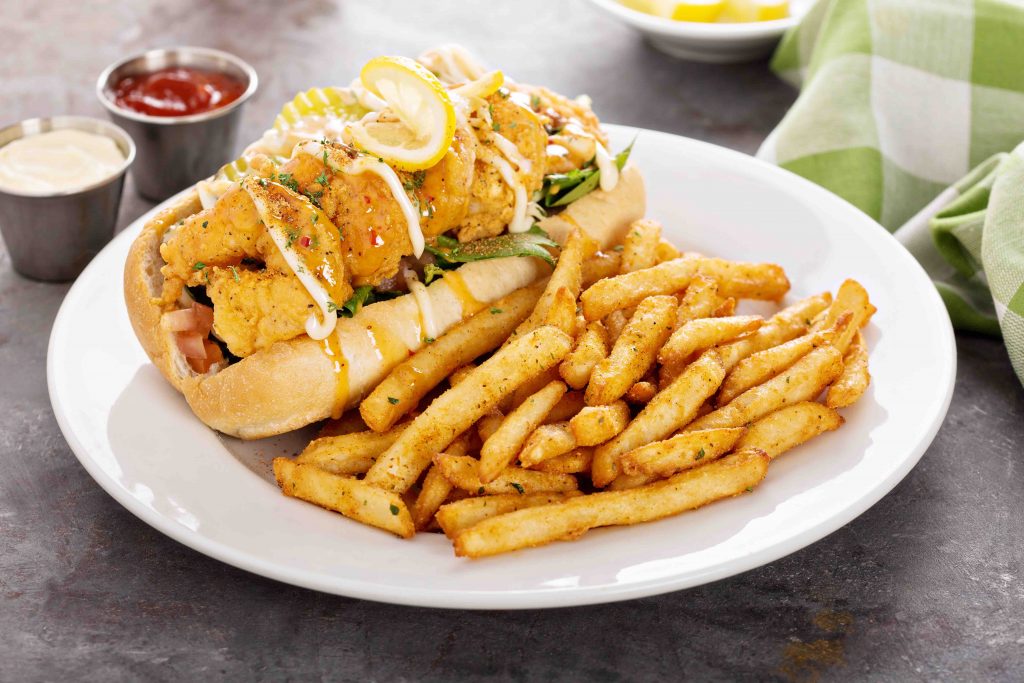 But there's a reason Johnny's has been going strong for  over 70 years, making it the oldest family-owned po-boy restaurant in the French Quarter. It's all about the glorious, over-stuffed po-boys that the founders became known for in 1950. Fluffy French bread is packed with the fillings of your choice: crackly fried oysters, plump alligator sausage, or roast beef smothered in garlic gravy. The list goes on, and you really can't go wrong here.

Mosca's
A destination restaurant that's in the middle of nowhere is a bit of an oxymoron, but Mosca's, located about 30 miles outside of New Orleans, thrives on that very contradiction. Experiencing this unassuming eatery might just be worth the journey across the Mississippi river. Come here for a low-key atmosphere and the family-style dynamic that extends beyond the portions.

The meal might feel more like a Sunday supper at your Nonna's than a fine dining experience, and that's exactly the point. The menu, while fairly limited, packs a punch. It focuses on garlic-heavy dishes served in heaping portions, like the signature oysters baked under a blanket of breadcrumbs, or the angel hair that was good enough to leave Gwyneth Paltrow in tears. We'll have what she's having.
Napoleon House
New Orleans is a place unlike any other in the United States, and no establishment proves this better than Napoleon House. When you visit, you're casually entering a 200-year-old landmark with a history that traces back to the French loyalists of the 19th century. You know, no big deal.

The building was first occupied by Nicholas Girod (the fifth mayor of New Orleans) and offered to Napoleon as a place of refuge during his exile. Napoleon never made it to the home, but the name stuck. Since then, Napoleon House quickly became a refuge of another kind. This is a place where New Orleans locals and tourists alike can come to eat, drink, and celebrate the very history that makes the city so special. It's the ideal spot for enjoying a classic sazerac while you bask in the unique ambiance of the Big Easy. Food is classic New Orleans: gumbo, jambalaya, po' boys, the works.

Brennan's
It's a bold statement, but a morning table at Brennan's may be the best and only way to do brunch in the Big Easy. The establishment has had 77 years to master the concept of breakfast, and it's a mission it clearly hasn't taken lightly. Brennan's menu sports a combination of high-end dishes and Creole-inspired takes on breakfast staples.

Take the Eggs St. Charles for example. It's a kind of Eggs Benedict that's become a classic on its own, with crispy gulf fish smothered in blood orange hollandaise. Be sure to save room for dessert, as Brennan's is credited with developing the original Bananas Foster recipe. It's flambéed tableside, and world famous for a reason. 
The Icon List
It wouldn't be a true list of New Orleans' top restaurants if we didn't include some of the spots that started it all. These establishments have earned icon status for a reason. They aren't going anywhere anytime soon, but the sooner you experience them, the better.