With skiing, just like with everything else, we seek the best of the best. The crème de la crème, if you will. The French ski resort Courchevel has been breaking records for combining something luxury for everyone. It contains in itself almost 400 miles of skiing terrain and 166 lifts (including a vast amount of bunny slopes and lifts for children) for the expert schussers, as well as some of the best restaurants, bars, and après-ski in the Alps for those who seek to grace the top of the mountain in their new Chanel ski jacket and drink mulled wine at the top.
And within that, lies the luxury hotel L'Apogée Courchevel, which is located smack-dab in the middle of Jardin Alpin at an altitude of 6069 feet, acclaimed with Palace Distinction. And that's because it is, in fact, and actual palace. Like we said, the best of the best.
The hotel features 53 spacious guest rooms in the style of an alpine snow-capped chalet (because, like, it is one), and two gourmet restaurants: the Japanese Koori with a sushi MasterChef, and the French Le Comptoir L'Apogée, which transforms into a smooth cocktail scene with live music by nighttime.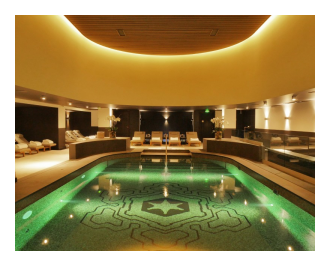 Among other amenities, besides a fully-equipped ski room, views that overlook a historic Olympic ski jump and private ski slope access, as is customary for an Oetker Collection Hotel, L'Apogée features a thing or two that aren't ski-related. We're talking pretty much any activity that could inhabit the mind of an adult or child. Equipped with a wellness center with the Sisley Spa, five treatment rooms, a sauna, a hot tub, and an indoor pool, the hotel also features the largest Kids Club in Courchevel.
The season of Winter Festivities begins here the 13th of December 2019.
FAQs
Q: When is the hotel spa open?
A: Spa L'Apogée by La Prairie is open daily during the hotel's open season (typically December-March). The spa hours are 10a.m.-9p.m. for hotel guests, and 10a.m.-3p.m. for exterior guests.
Q: When are the check-in and check-out times at L'Apogée Courchevel? 
A: Check-in is at 3p.m., and check-out is at noon.
Q: Are there facilities to help guests get in and out to ski easily? 
A: Yes, there is a 40 meter private conveyor belt to carry guests directly into the ski room.
L'Apogée Courchevel Information
Address: 5 Rue Emile Allais, 73120 Courchevel, France
Phone number:   +33 4 79 04 01 04
Map: