Hello, Madrid—we hardly recognized you. We remember you from our college days, when we were backpacking around Europe for the summer. You were the elegant destination of Spain, where in many ways, you were our gateway to culture. Flamenco shows, museums, and locals with that oh-so-attractive accent. While we haven't really been back since, you were our springboard to exploring the world.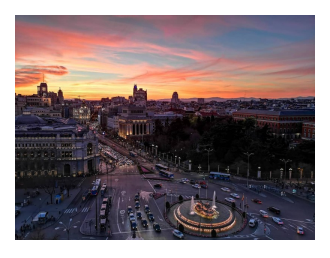 The Place to Be
Madrid is one of the hottest destinations to visit this year. That's right, there's never been a better time to visit an old friend. Injected with a whole new dose of fun, and now finally with real luxury places to stay. Elevated cuisine above the local tapas spots (though there's nothing wrong with that) and locals still with that oh-so-attractive accent. There's a reason why major luxury hotels like the Four Seasons, Bless Hotel, the Mandarin Oriental, and Urso are investing some serious cash in their Madrid properties. It's the place to be.
The Restaurant Groupie's Recommendations
And we haven't even gotten into one of the main reasons why: the food, obviously. And you're in luck. We have the ultimate food guide to where to eat in Madrid that was curated by Hidy, the Restaurant Groupie herself, and one of the top foodies in the world. We're talking tips like where to get gamba made-to-order before heading to a secret sherry bar (which is La Venencia, by the way). Just be sure to brush up on your Spanish as you're bound to run into locals at all of these places.
A Few Favorites 
To hit all these places, you'll have to do nothing but eat the whole time you're in Madrid – and it'll be worth it. There's a perfect place for everything. For tostadas with tomato and jamon (a Spanish must-have), La Fabrica is the place – and it's located near all the museums. At Casa Lucas, it's risotto cremoso, chicken corn soy, and calamari squid ink all the way. If you're in the mood for mini-burgers and a gastro pub vibe, Le Cebrera is the solution. For cider and chorizo, it's Casa Mingo, and for the roast suckling pig, head to Botin. And since you're in Spain, tapas are always of utmost importance: for that, Calle Cava Baja is the street.
Food Shops 
Not to mention the whole world of food shops we haven't even covered – La Conservera for canned Spanish delicacies to take home with you; San Gines for chocolate and churros; and exclusively on weekends, El Capricho Extremeno for seafood street sandwiches. This just about begins to scratch the surface.
  Yes, you've been to Madrid before, we get it. But you haven't been to this Madrid. What was once old is now new again and has climbed its way back to the top of the list for where to eat in Madrid this year.
The List 
La Fabrica
What to eat: Tostada with tomato and jamon
La Venencia
What to eat: Jerez sherry bar and simple tapas.
Additional Notes:  Good for a pre-dinner drink
Taberna del Chato

Casa Lucas
What to eat:  Risotto cremoso, chicken corn soy and calamari squid ink
Le Cebrera
What to eat: Mini burgers, anchovies passion fr, cocktails
Additional Notes:  Casual gastropub
La Casa del Abuelo
What to eat: Gambas al ajillo
La Pizzateca – C/ de Leon 26
Casa Mingo
What to eat:  Cider and chorizo
Botin
What to eat: Roast suckling pig
Ten Con Ten
What to eat: Burgers of beef, oxtail or anglerfish
Mercado San Miguel
La Conservera – food shop with canned seafood
San Gines – chocolate and churros
El Capricho Extremeño (Carlos Arniches 30; only Sat and Sun – seafood street sandwich
Tasquita del Enfrente – 77 eur tasting menu,
Bodega de los Secretos (vermouth bar?)
Sunday – Rastro flea market?
Related Articles
The Review: Rosewood Villa Magna