The Hand Sanitizer Sommelier – Top Five on the Market
The Hand Sanitizer Sommelier – Top Five on the Market
You've never done anything halfway. When the general masses were lined up for Purell, you were on the wait list for at least three of the hand sanitizers below because they were already on your list of essentials. With all the hand washing and sanitizing these days, it's becoming more important to use the right product in order not to have hands of a 120-year-old when this pandemic is over. These are the top hand sanitizers on the market, and if they're not available now, get on the wait list. We likely are in this for the next eight months or longer, and in any case, hand sanitizers are great to have, even when life gets back to normal — and it will get back to normal. Hang in there, stay safe and sanitize on.
Aesop Resurrection Rinse-Free Hand Wash
Even before the pandemic, we carried this chic hand sanitizer to over 120 countries. Let's just say it saved us from many an unsanitary and dicey situation. If you're a planner, you snagged this hand sanitizer early, as there was a 100+ person waitlist by the first week of March when Aesop shut their stores temporarily. We like this rinse-free hand wash because it's available as a supersize at over 16 ounces and can be a permanent yet discreet fixture at entrances. Also it's Aesop — their products mean business. Besides hand sanitizer, every family should have their regular hand washes too. Don't forget the lotion either; washing our hands so frequently means we need to moisturize, otherwise we'll all come out this with hands of a centenarian.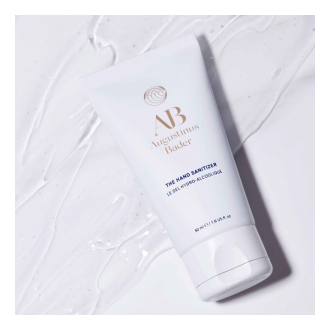 Augustinus Bader
This one is based on the science of Dr. Augustinus Bader, who spent 30 years researching stem cell behavior before launching his eponymous line. Their tagline: "7.5 Billion Skin Types, One Cream." We were skeptical, even with all the nonpaid celebrity endorsements, including from Victoria Beckham whose unnatural agelessness we attributed to good genes. In response to the pandemic, Augustinus Bader began manufacturing hand sanitizer for frontline workers and shared the wealth with their loyal clients, giving it out for FREE. Yes, you read that right. All you pay for is shipping. The catch is that it's limited at two per household, but send this to your friends and family, and treat yourself to their new hand cream, which is guaranteed to be another Augustnus Bader hit.
Yield Hand Sanitizer from Food52
At 70% alcohol, this overachiever pole-vaults over the CDC guideline of 60%. Yield's hand sanitizer is a perfect portable size that fits in pockets and purses, and we really like buying from Food52, one of the most innovative companies out there. This caught our eye because of the clean packaging, nice aesthetic and bergamot notes. (We've gotten to the point where we're describing hand sanitizer like wine. Do you think that a hand sanitizer sommelier will become a thing? But we digress.) There are 375 sprays in every one-ounce bottle, and it's as nondrying as 70-proof sanitizer can be. The price is relatively gentle too, between $22 and $50 depending on size. And it's available without waiting or selling your soul.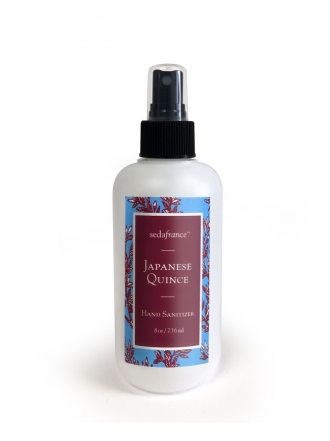 We already loved Seda France's Japanese Quince scent, and now it's in a hand-sanitizer version. It also reminds us of travel because we first discovered the scent at Eleven Experience in Crested Butte and have been hooked since. For sheer appreciation of Seda's quick innovation to meet market needs, we're going to buy this one over and over again. Also, the larger size is in a beautiful deep purple container that fits right in with décor and beats the standard Purell bottle because who wants to see that when you walk in the house? (No offense, Purell). This is another option on our list that is available without jumping through hoops.
We are kicking ourselves a little for not acting quickly on the Noshinku Bergamot hand sanitizer because it's a perfect size at 20 ml to carry around in our summer wardrobe. It's now available to preorder from the website, or you can also get on the waitlist through Rescue Spa in NYC, where we had the first opportunity to buy it. This 70% alcohol formula is all natural, made from organic sugarcane-based alcohol, rosehip seed, jojoba and Italian bergamia. We really like the misting function of the hand sanitizer, and the formulation is serious about moisturizing. The rosa canina oil soothes dry skin and argan oil fights skin inflammation, both of which have become champagne problems with frequent hand washing and sanitizing. While this is a small version, it packs a long-lasting punch, with 300 spritzes per sprayer.