Some things never go out of style. Like the caftan, which people have been wearing since ancient Mesopotamia, thousands of years ago. Now this stylish piece continues to grace the well-off and the chic from St. Tropez to Ibiza and beyond. Here are three styles that should make your summer packing list.
Malene Birger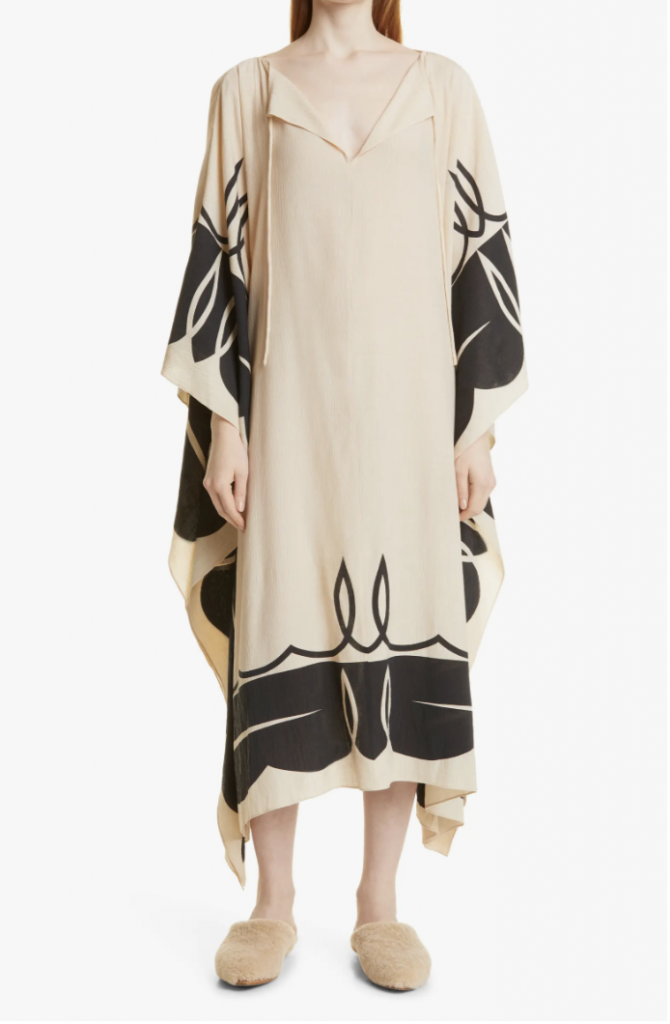 The Florencie border print Kaftan by Malene Birger is a staple for when you want your coverup to take you from the beach to the bar. The thicker viscose fabric, made sustainably, smooths over bikini lines and keeps dampness hidden. The large black print along the border is dramatic and modern, even as the black-and-tan color evokes a traditional, mediterranean feel.
A caftan is forever a staple because it hides everything that you need to stay covered. But the long flowing silhouette of the Malene Birger caftan does more with less. The deep neckline shows off just the right amount of collar bone. Also, the large print adds drama to an otherwise simple cut.
Pucci
The printed cotton-voile kaftan is for when you go from the pool club to the beach. The high neckline, balloon sleeves, and long-lined silhouette make for a dress/coverup that looks nice enough for a dinner out. And yet the sheer, iconic 'Marmo'-printed cotton-voile lets your bikini peek through, making this kaftan a perfect piece for minimal-clothing moments.
We love that the traditional tunic fit has been revolutionized with baggier and shorter sleeves. Pucci has modernized one of the longest-standing garments in history. And while everyone from serfs to gods has worn a tunic, this Pucci piece stands out.
NicoBlu
The Savannah kaftan in tropical oasis is for the bold. Though it fits like a traditional caftan, the large, detailed pineapple-and-palm print calls attention. Worn on vacation, this piece is unmistakably beach attire. But it's also the Allure choice for going day-to-night. More and more now, dress code is defined by fit or fabric, but not necessarily both. The flowing caftan style is elevated with the expensive-looking, sophisticated cotton fabric.
The washable viscose dries easily and becomes wrinkle-free if left out overnight, which means its also luggage approved. If you need a universal garment, this is it.
Related: Fanny Packs: They're Back