Joelle Mentis, Writer
If we ever hit another pandemic in our lifetimes, we will be much more prepared. With a beachfront house. And a fully stocked wine cellar. Add extra bonus points if it's Aman, in Mexico, one of the newest Aman developments set to launch soon. Welcome to Amanvari, which is next level vacation home goals,  even for Aman.
We have the deets — yes, we are doing real estate advisory.  Because we know hotels.  We know real estate.  We know people.  And that's what we do; we put the optimal combination and make the right connections come together.  Message us at travel@galavante.com and we'll hook you up.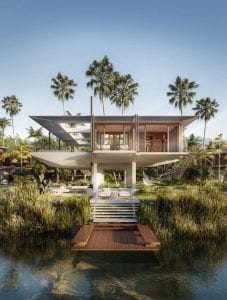 Beachfront Goals
Whether you've made it or not, at some point in your life you're going to need a beachfront house, and if the time is now then the place is at Amanvari. Of all the homes you could buy, these are the pinnacle of your life's work.
The Location
Just less than an hour from Los Cabos International Airport on the East Cape of the Baja Peninsula you'll find Aman's newest property which opened in 2020, and their debut in Mexico. Where their hotels are always over the top, Amanvari is on steroids, and located in one of the most pristine places in the world.
Even though you're near Cabo, you can leave the wild touristy stuff behind. The new resort sits among some of the most gorgeous beaches, serene swimming holes, beautiful mountain trails, and quaint coastal fishing towns untouched by crowds.
The Residences
Besides the hotel, which has its own host of features to extoll, Amanvari's has twenty four private residences, which are between 4,000 and 6,000 square feet, ranging from four to seven bedrooms. These beachfront residences offer the same view overlooking the sandy dunes and waterfront, as well as have access to the organic farms and world class Robert Trent Jones II golf course.
The Design
Aman is synonymous with design.  For this development, they partnered with top hotel design company, Heah & Co.  So your architects give you the immaculate base, and from there, it's fully customizable, so you can make make it your own.  Because there's no one like you.
Across the landscape, pavilions rise from the underlying nature on slender stilts like treehouses, or modern tents. The design honors the inspiration of the Baja coast and natural environment.  Each villa has floor to ceiling windows and wraparound sundecks with cantilevered pools, to bring the outdoors in.
The Hotel
At the main hotel, guests and residents all enjoy the main pavilion where an open air atrium set on the beach.  Because everyone should be able to dip their toes in the sand.  The hotel will also house a library, three central restaurants, and an infinity pool with four hot tubs.  Because one is never enough.
So if you've been toying with the idea of pulling the plug on a beachfront property, or you're not taking any more chances when it comes to pandemics, Amanvari has you covered.