We have major respect for Margot Robbie, who has proven to everyone that she is far more than a pretty face. She's got both acting chops and business savvy, considering that she has her own production company. So where does Margot go on vacation after al that hard work? We highlight four spots that are on Margot Robbie's travel list.

Riviera Nayarit, Puerto Vallarta, Mexico
Margot will be starring as Barbie in the upcoming eponymous movie, and odds are she will crush it. We're betting that she'll also start a trend of hot pink  — and maybe she'll even bring back rollerskating. When it comes to travel, Margot Robbie's follows the smart trends by those in the know. For a romantic getaway with her husband Tom, she chose one of the most popular celebrity spots for one-on-one time.  That is, a favorite beach town of the dating show Bachelor in Paradise. Because what's more romantic than ex-Bachelor and Bachelorette contestants finding love in Mexico? Not much, clearly.
The famous Riviera Nayarit and Puerto Vallarta in Mexico are a long-time hideout for both A-list and reality-TV stars, so it's no surprise they're on Margot Robbie's travel list. The secluded Riviera Nayarit is a quiet, beachy respite from the bustling town of Puerto Vallarta. Both are framed by the Sierra Madre mountains in the east and the Bay of Banderas to the west.
Margot Robbie's visited one of the most exclusive resorts in the area, the One&Only Mandarina. The Mandarina is a treehouse-villas retreat,with private plunge pools that overlook the Pacific Ocean. With its curated wellness experiences from top clinicians, chefs, and local guides, it's where celebrities and mere mortals alike happily decompress for a weekend.

Tahiti, French Polynesia
If you're Margot Robbie's husband, there's pretty much one way to stand out: humiliation. Tom's 15 minutes of shame came on their honeymoon to Tahiti, where the couple visited Marlon Brando's island retreat.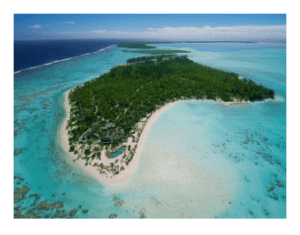 For a quick workout, Tom threw on his oldest shorts, a teeny pair that Margot begged him not to wear because she reportedly could "see everything." Like a good husband, Tom kept them on. He told Margot no one would be there. Then, in walked Ellen DeGeneres and her wife, Portia de Rossi. Things got worse when Barack Obama joined them. The former President was on the island to work on his memoir. Poor Tom, having grown uncomfortable and embarrassed, had to grab a towel to rescue his modesty.
San Juan Del Sur, Nicaragua
Not many celebrities visit San Juan Del Sur, and fewer are game to make it there for the surf. But an Aussie is an Aussie for life. Margot's holiday was not for the faint of heart. Her nine-day surfer's retreat was scheduled around the waves and tides. In between her longboard sessions, she rode a catamaran, went for hikes, zip-lined, and finished off her day with yoga. In her free time, Margot led the friend group in nail-painting and water-gun fights. She's our kind of travel companion.
The trip was booked through Chica Brava, a Nicaraguan surf camp. Margot and the girls stayed in Cloud Farm, a private jungle villa on a mountain. The villa accommodates seven in large rooms that open onto an infinity pool. The 1,200-ft elevation makes it a cool spot for a campground with beautiful views. The villa also is on farm grounds, where all of the ingredients for meals are grown.
For a surfer girl, the trip was perfect. Margot even won the "most goofy" award, which in surfer lingo means surfing with your right foot forward. So clearly, Margot Robbie is game for a spontaneous activity. We can't wait to see where she goes next.
Related: Travel like Megan Fox 
Tetiaroa, Arue 98702, French Polynesia
Check-in time: 3:00 PM
Check-out time: 11:00 AM