You know what they say: You never forget your 10th Super Bowl. OK, maybe not the run-of-the-mill adage, but Tom Brady is proving that he brings the magic by taking the Tampa Bay Buccaneers to the Super Bowl his first season on the team. In honor of one of the greatest QBs of all time, here are four spots to travel like a star quarterback married to a supermodel.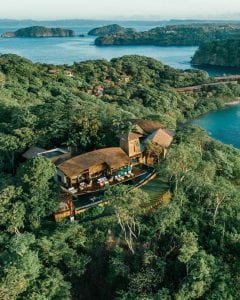 Costa Rica
This is a favorite of the Bundchen-Brady clan, so much so that they bought a house
In the beach side town of Santa Teresa.  It's all about surf and yoga, where backpackers mingle amongst the billionaires who have homes in the area.  Laid-back is what everyone is looking for, which is why the QB is able to get some real R&R.  For your stay in Costa Rica, the spot to go is The Four Seasons, which has been the best hotel in the country since it opened.  It will soon be joined by other luxury players, but for now, it's the best game in town.
Amalfi Coast
Where does a QB go when he's taking a required break from football?  That would be living his best life on the Amalfi Coast in Italy, where he headed back in 2016.  It goes to show that everyone goes through ups and downs; you gotta' get up to fight another day. In the meantime, have the linguine with clams at Aurora on Capri, or zip around on a scooter in Positano.  The place to stay in Positano is Villa Treville, the under-the-radar hotel from the masses where the jet set from royal families, billionaires and a supermodel or 10 opt for when they are in town.
Baker's Bay Bahamas
Set between the Sea of Abaco and the Atlantic Ocean, Baker's Bay is the exclusive private club where Tom gets to play golf barefoot.  Because why not?  With 385  homes owned by a name or two you may know, it's where you go not to be seen, and take in maybe the prettiest part of the Bahamas.
Sedona, Arizona
When you're married to a super model into yoga and spirituality, it's no surprise that Tom has taken a getaway in Sedona with his wife Gisele.  In the US, this is a Hall of Fame destination, set within the red rock buttes, canyons and pine forests within the Arizona desert.  The drive itself is stunning, and you can take advantage of hotels like Auberge and Enchantment to a week of spa, yoga, chill; repeat.  Mii Amo is going through a full refurb and will reopen next year.